Potato soup of autumn

The Ministry of Agriculture, Forestry and Fisheries selected the best 100 local dishes of Japan in 2007 and the Imoni soup of Yamagata Prefecture in the Tohoku Region was ranked as no.1.
"Imoni" means "potato cooking" and it is a soup with many ingredients. The main ingredient is satoimo or taro potato, which is one of the vegetables that represent the autumn in Japan. Although the recipe of the soup is different from family to family, and area to area, the basic ingredients are taro potatoes, leeks, sliced beef, and konnyaku or jelly-like food made from a kind of potato called "konnyaku potato".
The ingredients are cut into bite-size and seasoned with soy sauce, sugar and sake. The flavor of this imoni soup is like that of sukiyaki so most people like it.
People of Yamagata Prefecture enjoy imoni party at the riverside in autumn. Supermarkets, convenience stores and home improvement centers in Yamagata carry stocks of firewood and big pans for rental during the season.
Other than the imoni party as an outdoor cooking activity, imoni soup is made at home and many restaurants in Yamagata serve imoni soup in autumn. So if you visit Yamagata in autumn, you can taste the most delicious local cuisine in Japan.
Yamagata City, the capital of Yamagata Prefecture, holds the biggest imoni festival on the first Sunday in September every year.
A gigantic pan is used to make forty thousand helpings of imoni soup. The pan weighs 3.2 tons, the diameter is 6 meters and the depth is 1.6 meters. A crane moves the big lid and a backhoe stirs the imoni soup. The backhoe should be a new one and instead of grease, butter or margarine is used. Three ton of taros, 1 ton of beef, 3500 konnyaku and 3500 leeks are prepared for this soup.
Taro potatoes are cooked well and they break down in the mouth. Beef gives a rich flavor to the soup and other ingredients are of good quality, too.
The event is held at Mamigasaki in Yamagata City. It takes about 10minutes by bus or taxi from Yamagata Station and three hundred yen is necessary to eat one bowl of imoni soup. Many people come to the event and enjoy the autumn harvest in imoni soup.
A backhoe ladles the soup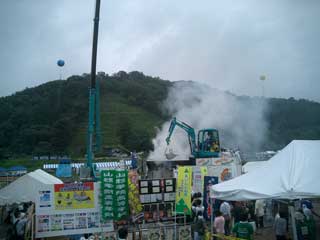 Imoni soup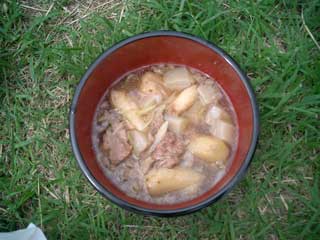 Imoni-man is the mascot of the event