The Hanagasa Dance Festival

In early August, many festivals are held in the Tohoku region of Japan. The Hanagasa Dance Festival, which is held in Yamagata from August 5th to 7th, is one of the summer festivals of Tohoku.
The Hanagasa Dance Festival is a magnificent dance event. More than 10,000 dancers in more than 100 groups parade through the main street of Yamagata City. The dancers of each group wear the same costume and carry hanagasa or straw hats with artificial safflowers. They wave or twirl their flower hats, dancing to the song of "Hanagasa Ondo", the song of the festival.
The Hanagasa Dance has a wide variety of forms. Some dancer groups show graceful movement, some show strong and dynamic action and some move and turn the flower hats swiftly. It is said that the dance is originally based on the movement of safflower picking or rice harvest but today, creative types with foreign elements are made and performed, too. However, all dances are choreographed for the song of Hanagasa Ondo.
The dance parade started at 6:10 p.m. I watched the dance parade from up close, sitting on the sidewalk. The sound of Japanese drums echoed in the night air and the shout of "Yassho! Makasho!" invigorated the dancers and audience alike. Dancers passed in succession, showing different dances in different costumes. It felt like as if I were in a big kaleidoscope.
The festival is relatively new and started in 1963 as a commercial event. It is one of the four large summer festivals in Tohoku today, along with Tanabata Festival in Sendai, Kanto Festival in Akita and Nebuta Festival in Aomori. More than 1million people watch the dance festival for three days.
Wadaiko or Japanese drums tell the start of the parade.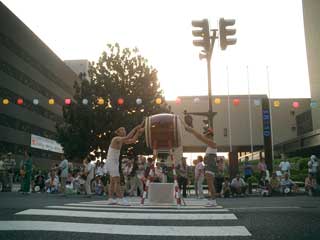 Hanagasa dancers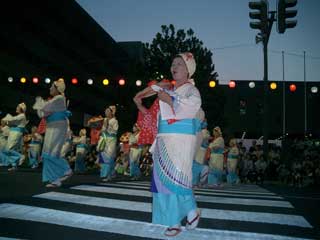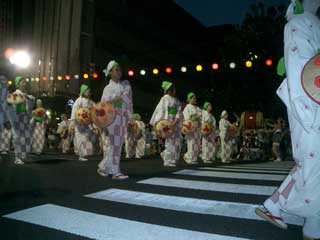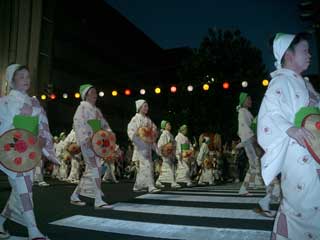 One example of creative Hanagasa Dance is belly dancers.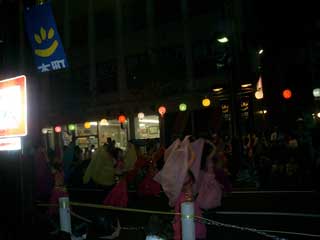 Imoni-man, one of the mascots of Yamagata Prefecture, also participates in the parade.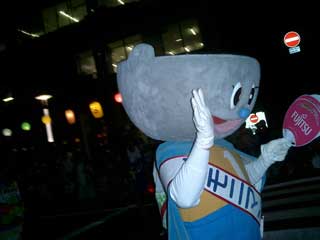 At the end of the street a big illumination gate welcomes the dancers.